In today's successful industries efficiency and productivity are of the up most importance.
With tools available for data collection, for face measurements and hole surveying data, a software package must be able to calculate, design and produce the most precise results.
Hence the introduction of BLAST DESIGNER 32 software.
The package was designed from the ground up in conjunction with relevant quarry personnel and Health and Safety consultants.
What makes it special? Some of the features that make up Blast Designer 32 are:
BLAST DESIGNER 32 Version 3 software by Altongate Ltd. Rockface profiling software with the following features:-
BLAST DESIGNER 32 Version 3 software by Altongate Ltd
Rockface profiling software with the following features:- - Fully implemented Windows application, (WIN XP/2000/98/95)
- Multiple site operation -
Complete survey and blasthole design system complies with UK Quarries Regulations 1999 ACOP
- Blasting Specification Appendix 2.
- Primary hole profile plus extra side profile burdens displayed in section and front view together with plotted hole position
- Hole deviation survey support using outputs from - PULSAR BLASTHOLE PROBE, HAND HELD PROBE & ROCK MONITOR
- Manual input from hand held inclinometers & compass
- Multiple rows of holes - Multiple Back markers - Individual burden and sub-drill designs
- Profile, plan and face view plots
- All views simultaneously visible
- Special pre-drill survey design tools for changing hole position and angle
- to optimise burdens
- Drill log automatically generated with hole positions and drill angles etc
- On screen user measurements on all views
- Position of Face laser measurements shown in plan and front view to check profile alignment with position of blasthole
- Blast location on full National Grid datum quarry plan - Vibration prediction at design time
- Drill Size selection with automatic burden limit calculation
- Moving/still/slow motion playback video clips of blast
- All measurements shown directly on plots
- Automatic archive library filing system
- All raw survey data archived
- Compatible for use with existing PULSAR MEASURING SYSTEMS REFLECTORLESS LASER EQUIPMENT
- Burdens only calculated from actual measured data and shown on the profile in red, black or blue according to the pre-set minimum, best and maximum burden value together with depth down the hole.
- Charge design with decking
- Shot summary sheet
- Automatic calculation of explosives cost per tonne
- Hole diameter correction
- Individual hole charging sheets
- Total explosive usage reports
-Blast ratio and powder factor
- on line context sensitive help There is no annual licence fee for Blast Designer software Price includes unlimited telephone and e-mail support.

Blast Designer 32 details.
FEATURES
Overhead view with hole positions, with the blasthole probe which also shows the positions (plane) of the face laser measurements in relation to the plane of the surveyed position of the blasthole.
Front view of blastholes and face laser measurements.
Overhead view on national grid with PPV values plotted at design stage.
Face profiles with hole loading design
Summary of explosives material usage and job summary
The software is year 2000 complaint and comes with online help and a manual
Speed- Processing time for 17 profiles from down loading in only 17 seconds.
There are no annual licence fee for Blast Designer software
Price includes on site training and unlimited telephone support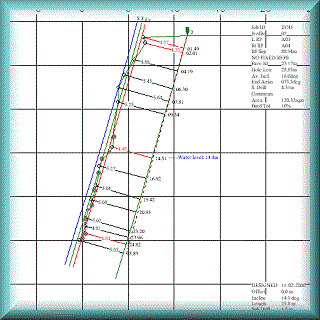 For more printout examples of Blast Designer 32 , jump here